On Demand Webinar: Do-It-Yourself Artificial Pancreas Systems - What you need to know
This webinar will introduce the DIY artificial pancreas systems and will help you to:
- Understand how a DIY APS system works
- Understand why users choose these systems and the potential risks and benefits
- Discuss the ethical and medico-legal implications of their use
- Gain insight into how best to support users of these systems including participation in the ABCD DIY APS Audit programme
During the presentation you will be able to pose questions for our Q&A session after the talk.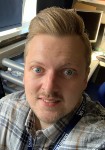 Speaker: Dr Thomas Crabtree
Dr Tom Crabtree is a specialist registrar in the East Midlands taking time out of training and is currently working as an Association of British Clinical Diabetologists (ABCD) research fellow at Royal Derby Hospital, Derby and City Hospital, Birmingham. His PhD and research is focussed on technology in diabetes - specifically DIY APS, precision medicine and real-world data.

Session Chair: Dr Andrew Macklin
ABCD Honorary Treasurer
Andrew Macklin has been a member of ABCD since he was an SpR & joined the committee as an ordinary member before developing the IT/Communication lead position & subsequently being elected as treasurer. Since 2001 he has worked as a DGH diabetologist in Dorset.
He has orchestrated the ABCD social media presence, as well as coordinating the move to the abcd.care domain & helping with the development of the new website interface.
Useful links and resources
Clinical taxonomy:
Diabetes technology
Pumps and pump technology
Type 1 diabetes mellitus
Type 2 diabetes mellitus
Resource taxonomy:
ABCD Webinar Series
Education
Webinar
---
Thank you to our Gold Supporters

We are very grateful to our corporate sponsors whose generous support has allowed us to provide this valuable educational meeting free of charge to all delegates
ABCD Sponsors have no input in the content of webinars.
---
The views expressed by speakers or other thirds parties are those of the speaker or third party and not necessarily of ABCD.

Whilst every effort has been made to ensure the information and guidance is accurate, it is impossible to predict all the circumstances in which it may be used and ABCD assumes no responsibility or liability for any errors or omissions made in this content. All presentations are for informational and educational purposes only - content should not be considered applicable to all situations or patients.

The contents do not negate the requirement for comprehensive assessment, liaison and management of patients, their families and caregivers.

ABCD neither endorses nor accepts responsibility for the contents of third party websites or resources included in these presentation.

Sponsors have had no input into the content of the presentations.

For more information see our Website Terms and Conditions.