On Demand Webinar: Covid-19 and Diabetes: Clinical challenges and implications
Related ABCD Resources
This is the second ABCD webinar in a series of four.
There have been a number of reports demonstrating adverse clinical outcomes in people known to have diabetes who are infected by SARS-Covid-2.
Many hospitals in the UK have have been inundated with acute severe presentations of diabetes.
The talk by Dipesh Patel will review some of this data, including acute presentations, proposed mechanisms and management principles.

Speaker: Dr Dipesh Patel
ABCD Chair
Dipesh Patel is consultant physician in Diabetes and Endocrinology at the Royal Free NHS Foundation trust in London. He enjoys delivering high quality clinical care in Endocrinology and Diabetes. He is committed to patient safety and supports teams in secondary and community care. Professionally, he is a trustee and current chair of the Association of British Clinical Diabetologists (ABCD). He was awarded a PhD from Imperial College for research in the area of cellular cholesterol transport in people with dysglycaemia and works as an Honorary Associate Professor at UCL. He is principal investigator in clinical trials in cardiovascular and renal domains. He enjoys being the local teaching lead for undergraduate Endocrinology at the Royal Free Campus.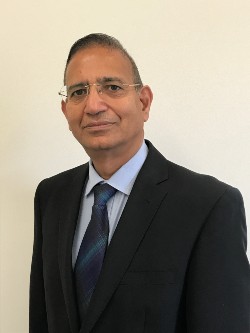 Session Chair: Dr Umesh Dashora
ABCD Honorary Meeting Secretary, Regional adviser, Royal College of Physicians of London and Edinburgh
Umesh Dashora is a consultant in Hastings and has trained in diabetes and endocrinology at Newcastle and Southampton among other centres.He has been a keen member of the ABCD executive team since 2013 and has actively promoted and contributed to the ABCD journal as the news editor. He has represented ABCD in JBDS-IP and contributed to a number of recent national guidelines the most recent being diabetes management during delivery in which he is the first author. This is now published. Umesh and Dinesh have developed an online module for the Royal College of Midwives which has had very good uptake.He is the first author of one of the first ABCD position statements on SGLT-2 inhibitors in type 2 diabetes and the updated position statement on SGLT-2 inhibitors in type 1 diabetes. Umesh also published on the use of U500 in UK on behalf of ABCD . He is the new meeting secretary of ABCD. He also holds the regional adviser position for the Royal colleges of Physicians of London and Edinburgh.
Clinical taxonomy:
COVID-19
Type 1 diabetes mellitus
Type 2 diabetes mellitus
Resource taxonomy:
ABCD Webinar Series
Education
Webinar
---
Thank you to our Gold Supporters

We are very grateful to our corporate sponsors whose generous support has allowed us to provide this valuable educational meeting free of charge to all delegates
ABCD Sponsors have no input in the content of webinars.
---
The views expressed by speakers or other thirds parties are those of the speaker or third party and not necessarily of ABCD.

Whilst every effort has been made to ensure the information and guidance is accurate, it is impossible to predict all the circumstances in which it may be used and ABCD assumes no responsibility or liability for any errors or omissions made in this content. All presentations are for informational and educational purposes only - content should not be considered applicable to all situations or patients.

The contents do not negate the requirement for comprehensive assessment, liaison and management of patients, their families and caregivers.

ABCD neither endorses nor accepts responsibility for the contents of third party websites or resources included in these presentation.

Sponsors have had no input into the content of the presentations.

For more information see our Website Terms and Conditions.