How will recent developments in obesity management change obesity services
Event Date:
Tuesday, 23 November, 2021
How will recent developments in obesity management change obesity services
Tuesday 23rd November 2021, 19.00 - 20.00
In this webinar Alex Miras and an expert panel will discuss the optimal ways that obesity care should be provided in the UK based on experiences with the tiered system. The webinar will also explore how the introduction of obesity pharmacotherapy could serve as an impetus to improve the care given to patients.
This is a Novo Nordisk Sponsored meeting
Novo Nordisk has provided sponsorship to the Association of British Clinical Diabetologists (ABCD) to fully fund all costs for the development and delivery of this webinar, including creation, administration, promotion and speaker honoraria. Novo Nordisk has had no influence on the content and full editorial control remains the sole responsibility of ABCD.
---
Speaker: Alex Miras

Alex Miras is a Senior Lecturer and Consultant in Endocrinology and Obesity Medicine at Imperial College London. His clinical and research work focus solely on Obesity. He has contributed to the clinical management and research in Obesity over the last 10 years, through his work at a high throughput Obesity Centre. The specialist interests of his research Group are the mechanisms of action of interventions for obesity, focusing on pharmacotherapy, medical devices and obesity surgery.
Session Chair: Barbara McGowan

Professor Barbara McGowan is a Consultant Endocrinologist at Guy's and St Thomas' Hospital (GSTT) and Professor in Diabetes and Endocrinology at King's College London. She was awarded a PhD from Imperial College London for investigating 'The role of relaxin-3 on energy homeostasis and the hypothalamic-pituitary-axis' and the role of gut hormones and other neuropeptides in appetite control.
She is R&D lead for Diabetes and Endocrinology at GSTT and the South London Specialty lead for the Metabolic and Endocrine research network. She leads the obesity bariatric service at GSTT where she manages patients with severe and complex obesity. Her areas of research interest are in gut hormones and appetite control, pharmacotherapy for obesity and remission of type 2 diabetes post-bariatric surgery. She is an investigator for several obesity clinical trials and was awarded an NIHR/RCP/CRN prize in recognition of outstanding research within the NHS.
Professor McGowan is a SCOPE National fellow, a member of the European Society for Endocrinology Policy and Advocacy Task Force and a member of the RCP Advisory Group on Weight and Health. She chairs the GIRFT/ABCD Obesity Task Force. She has served as Treasurer of the Society for Endocrinology and as a Trustee of the Association for the Study of Obesity.
Panellists
David Hopkins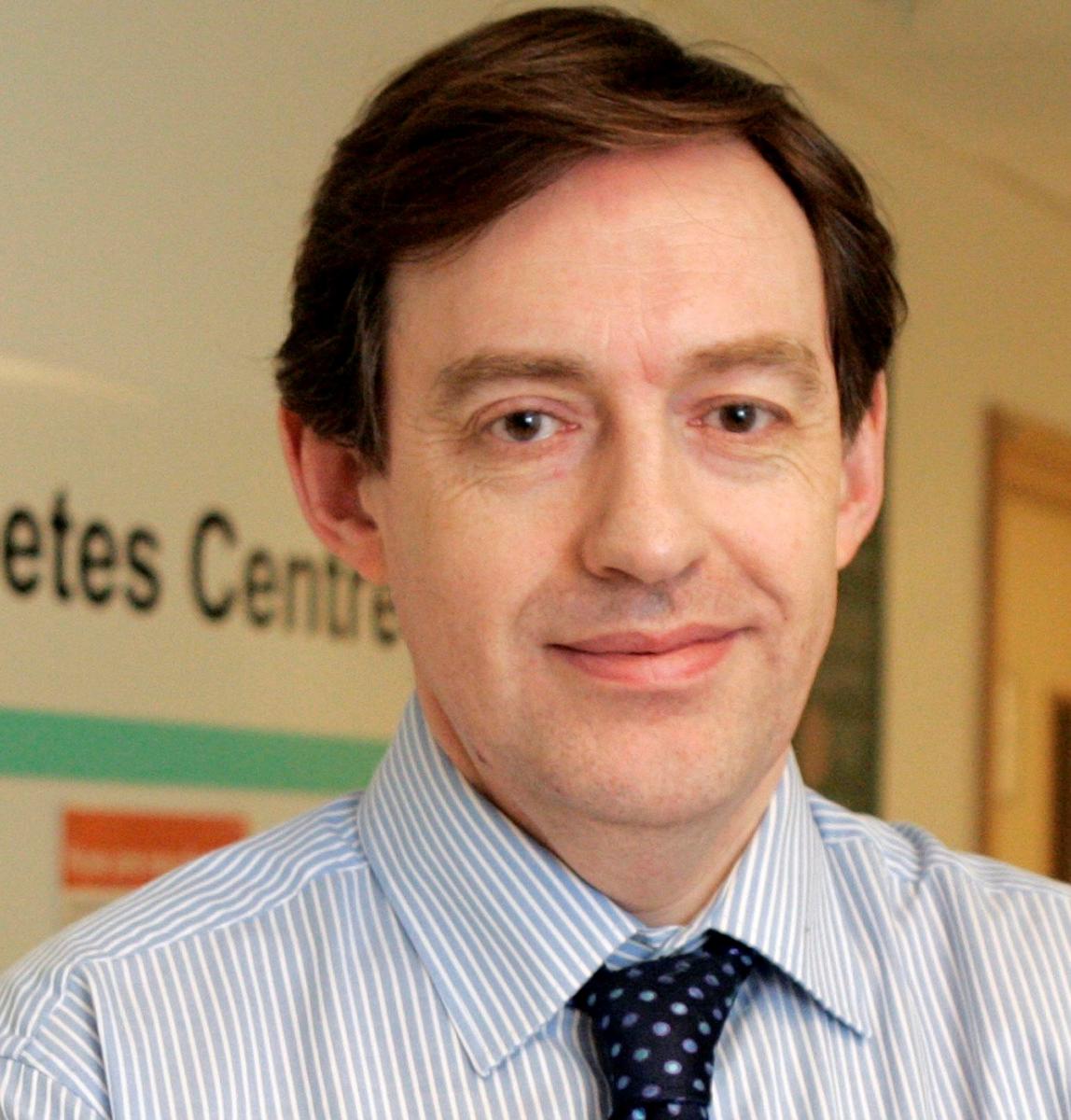 David Hopkins is a consultant physician and diabetologist based in London. He is Director of the Institute of Diabetes, Endocrinology and Obesity at King's Health Partners, an academic health science centre comprising King's College London, King's College Hospital, Guy's & St Thomas' Hospitals and South London & Maudsley NHS trust. He is Co-Chair of the Council of Healthcare Professionals at Diabetes UK and is a former member of the UK DAFNE collaborative executive.
David has broad clinical and academic interests across the whole spectrum of diabetes and runs specialist clinics for advanced type 1 diabetes management islet and pancreas transplantation and diabetes complication management. Current research work ranges from studies on novel endoscopic based treatments for type 2 diabetes to the use of large datasets to understand the clinical course of diabetes and improving the understanding of the experience living with diabetes.
David has been actively engaged in multidisciplinary health professional education throughout his career and is leading on a new King's College London online Masters level programme which will launch in 2021.
Jennifer Logue

Jennifer Logue is Professor and Honorary Consultant in Metabolic Medicine, focusing both her research and clinical practice on the treatment of obesity and related metabolic disease. Her work focuses on interventions at the level of the individual with the aim of treating or preventing the complications of obesity. This includes interdisciplinary, mixed methods research to develop complex interventions, and pragmatic, efficient clinical trials utilising health record data. Her clinical work includes cardiovascular risk factor and weight management clinics. She is the Associate Dean for Research for the Faculty of Health and Medicine and Deputy Clinical Director of the NIHR North West Coast Clinical Research Network.
John Wilding

John Wilding leads Clinical Research into Obesity, Diabetes and Endocrinology at the University of Liverpool. He graduated from Southampton University in 1985, where he continued his clinical training until moving to the Royal Postgraduate Medical School at Hammersmith Hospital, London where he undertook specialist training in Diabetes and Endocrinology, and three years laboratory-based research into the neurobiology of obesity and diabetes. He has been a clinical academic at the University of Liverpool since 1996, and was appointed Professor of Medicine in 2005. He leads specialist services for severe obesity at Aintree University Hospital – designated a Centre for Obesity Management by the UK and European Associations for the Study of Obesity.
John's research team focusses on developing new treatments and strategies to reduce the burden of diabetes and obesity-related disease. John has published over three hundred papers, chapters and review articles related to his research interests, which include clinical trials in diabetes and obesity, adipocyte biology, and studies of metabolism.
He chairs the National Clinical Research Network Metabolic and Endocrine Speciality Group. He is a past Chair of the UK Association for the Study of Obesity, a member of the Royal College of Physicians Advisory Group on Nutrition, Weight and Health and President of the World Obesity Federation. When not at work he likes to swim, bike and run and regularly competes in triathlons.
John Wass

Professor of Endocrinology, Oxford University
Head of the Department of Endocrinology at the Oxford Centre for Diabetes, Endocrinology and Metabolism, Churchill Hospital Oxford, until 2012.
Research interests: pituitary tumours, acromegaly, adrenal disease, angiogenesis in endocrinology, genetics of osteoporosis, thyroid disease.
Published over 440 articles, edited different textbooks; Oxford Textbook of Endocrinology (3 editions), Clinical Endocrine Oncology (2 editions), Oxford Handbook of Endocrinology (4 editions)
President European Federation of Endocrine Societies from 2001-2003
Chairman Society for Endocrinology 2006-2009
President American Pituitary Society.
Awards
Outstanding Leadership Award, American Endocrine Society 2022
Outstanding Scholarly Physician Award, American Endocrine Society 2016 (first non-American)
Lifetime Achievement Award, Pituitary Society (America) 2017
Geoffrey Harris Prize European Society of Endocrinology 2021
Academic Vice President Royal College of Physicians 2012-2015.
Presented acclaimed documentary 'The Fantastical World of Hormones' on BBC4, 2016
Current Getting It Right First Time Endocrine Lead, NHS England, visiting and inspecting all endocrine departments in the UK (127) and doing a national report.