Dr. Hermione Price
Honorary Secretary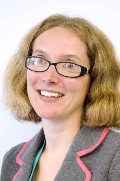 Image: Dr. Hermione Price
Hermione is, amongst other things, a consultant diabetologist at Southern Health NHS Foundation Trust and University Hospitals Dorset. Her clinical interests include the management of diabetes and obesity in people living with severe and enduring mental illness.
In addition, Hermione is joint training programme director for Diabetes and Endocrinology in Wessex and joint diabetes lead at Wessex NIHR Clinical Research Network. Hermione is a past lead for diabetes at the Wessex cardiovascular strategic clinical network.
Hermione is an active researcher and is currently supervising several PhD students.
Hermione works less than full time and is passionate about work/life balance and actively embraces the portfolio career.
Become a Member
The Association of British Clinical Diabetologists is the national organisation of Consultant Physicians in Britain who specialise in Diabetes Mellitus. Most are also Acute General Physicians, and many are also Specialists in Endocrinology and Lipid Metabolism.