On Demand Webinar: MDT management of people with obesity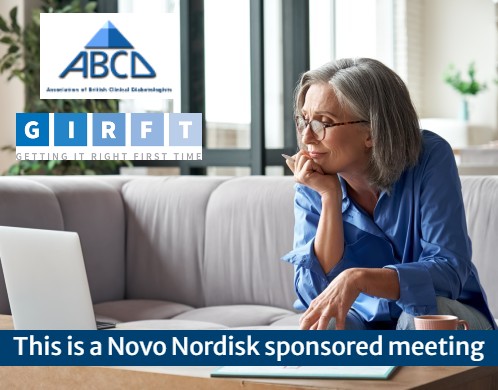 In the final webinar in this series focusing on obesity, hosted by ABCD and GIRFT and supported by Novo Nordisk Ltd, this session brings together experienced Physician, GP and surgical colleagues for expert case discussions to aid colleagues managing people with obesity across healthcare sectors.
---
This is a Novo Nordisk Sponsored meeting
Novo Nordisk has provided sponsorship to the Association of British Clinical Diabetologists (ABCD) to fully fund all costs for the development and delivery of this webinar, including creation, administration, promotion and speaker honoraria. Novo Nordisk has had no influence on the content and full editorial control remains the sole responsibility of ABCD.
Chair: Barbara McGowan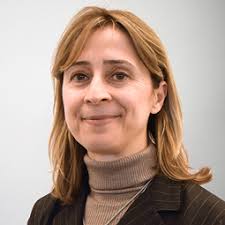 Professor Barbara McGowan is a Consultant and Honorary Reader in Diabetes and Endocrinology at Guy's and St Thomas' Hospital. She was awarded a PhD from Imperial College London in 2007 for investigating 'The role of relaxin-3 on energy homeostasis and the hypothalamic-pituitary-axis' and the role of gut hormones and other neuropeptides in appetite control.
She is R&D lead for Diabetes and Endocrinology at GSTT and the South London Specialty lead for the Metabolic and Endocrine research network. She leads the obesity bariatric service at Guy's and St Thomas' Hospital where she manages patients with complex obesity. Her areas of research interest are in gut hormones and appetite control, pharmacotherapy for obesity and remission of type 2 diabetes post-bariatric surgery. She is an investigator for several obesity clinical trials and was awarded an NIHR/RCP/CRN prize in recognition of outstanding research within the NHS.
Professor McGowan is an active Trustee of The Association for the Study of Obesity, a member of the ASO obesity management sub-committee and a SCOPE National fellow. She is the Treasurer for the UK Society of Endocrinology and a member of the RCP Advisory Group on Weight and Health.
Speaker: Matt Capehorn

I studied at the University of Sheffield and qualified with a BMedSci degree in Neurophysiology in 1993, and my MBChB degree in Medicine and Surgery in 1996. I have been a full time GP Principal since 2001 during which time I have worked as a Forensic Medical Examiner (Police Surgeon), a GPwSI in drug misuse, and also worked for our out of hours primary care service. I have also been Honorary Secretary of the Rotherham Division of British Medical Association. However, my main interest over the last few years has been as a GP specialising in obesity and diabetes management.
In 2002, I set up a weight management clinic within my Practice, which for many years remained Rotherham's only dedicated service for adult obesity, and over subsequent years it was expanded due to demand, and a reputation for achieving good sustainable results. I was a member of the group that helped to develop the NHS Rotherham Healthy Weight Framework that won the NHS Health and Social Care Award 2009. I developed the Rotherham Institute for Obesity to provide a Rotherham wide multi-disciplinary (tier 3) service based around a specialist centre based in the primary care setting that will also tackle difficult areas such as childhood obesity as well as adult obesity, diabetes and obstructive sleep apnoea. In 2016 it became an accredited Centre of Obesity Management with the Association of the Study of Obesity.
RIO is now an established research site with a dedicated team that do commercial and non-commercial studies, specialising in obesity and diabetes related research. It is involved with our Primary Care Research Network (PCRN) and collaborates with several academic institutions, and has done numerous studies in all aspects of primary care medicine. It has worked with several pharmaceutical companies and I have been a Principal Investigator for landmark studies such as SCALE, PIONEER, and SUSTAIN and was Chief UK Investigator for the SUSTAIN 10 study. I have published numerous articles related to obesity and diabetes, as well as having published/presented numerous abstracts in the form of oral or Poster presentations at conferences.
I have been invited on to several local, regional and national strategy/advisory boards and regularly speak at meetings to all healthcare professionals in the hope of encouraging weight management and diabetes services. I am Medical Director of the commercial weight loss company Lighterlife and I am an ad hoc Medical Advisor to McDonalds. I am an Expert Advisor to the National Institute for Clinical Excellence (NICE) and have been asked to present at All Party Parliamentary Group meetings on obesity. I am a professional advisor to the Obesity Empowerment Network (OEN) and I have also been invited on to numerous Advisory Boards for the pharmaceutical industry.
I have previously been a visiting lecturer at the University of Chester on their MSc course in obesity, and an honorary senior lecturer with the University of Sheffield and I am on the Academic Advisory Board of the College of Contemporary Health (CCH). I have previously held the position of Clinical Director of the National Obesity Forum, and I developed the NOF one day Diploma in Obesity and organised the 2009 and 2010 NOF annual conferences. I am currently a co-opted Board member of the Association for the Study of Obesity (ASO) and I have helped to develop the ASO Centres of Obesity management (COMs) conferences. I have been part of the author group for RCGP accredited obesity educational courses and I have been a clinical reviewer for numerous academic journals. I have been on the Faculty of the Primary Care Academy of Diabetes Specialists (PCADS) since it formed in 2014. I have also made numerous radio and television appearances in interviews and documentaries relating to current obesity and diabetes matters.
Speaker: Alex Miras

Alex Miras is a Senior Lecturer and Consultant in Endocrinology and Obesity Medicine at Imperial College London. His clinical and research work focus solely on Obesity. He has contributed to the clinical management and research in Obesity over the last 10 years, through his work at a high throughput Obesity Centre. The specialist interests of his research Group are the mechanisms of action of interventions for obesity, focusing on pharmacotherapy, medical devices and obesity surgery.
Speaker: Richard Welbourn

He is part of a 5-surgeon bariatric and upper GI team in Musgrove Park Hospital, Taunton, after setting up the unit in the early 2000s. Musgrove became the SW Level 1 Commissioned bariatric surgery centre and the first International Center of Excellence for Bariatric Surgery of the US Surgical Review Corporation (2009). The unit was awarded an RCS Fellowship in upper GI and bariatric surgery and has trained fellows continuously as part of the National Surgical Fellowship Training Scheme (2009-).
He is lead surgeon on the NIHR-funded By-Band-Sleeve RCT, the largest RCT of different procedures, which is fully recruited (1,341patients) and expects to report in 2023. Previous roles include Past-President of the British Obesity and Metabolic Surgery Society (2013-15), member NICE GDG for Obesity (CG189) 2014, NICE Obesity QSAC (2015-16), member CRG for Specialized and Complex Obesity (2012-16). He led multi-collegiate RCS commissioning guidance for bariatric MDT clinics (2104, 2017). He founded the UK National Bariatric Surgery Registry (2009), Chair (2013-18), member IFSO Global Registry Committee (multiple reports 2014-2021). IFSO World Congress President (London, 2017). Recipient of IFSO Presidential Medal (2017) and Award of Appreciation (2018). Associate Editor Obes Surg (2019-), Section Editor Curr Obes Rep (2016-). TSC Chair SCOTS study (2011-).
---
Thank you to our Gold Supporters

We are very grateful to our corporate sponsors whose generous support has allowed us to provide this valuable educational meeting free of charge to all delegates
ABCD Sponsors have no input in the content of webinars.
---
The views expressed by speakers or other thirds parties are those of the speaker or third party and not necessarily of ABCD.

Whilst every effort has been made to ensure the information and guidance is accurate, it is impossible to predict all the circumstances in which it may be used and ABCD assumes no responsibility or liability for any errors or omissions made in this content. All presentations are for informational and educational purposes only - content should not be considered applicable to all situations or patients.

The contents do not negate the requirement for comprehensive assessment, liaison and management of patients, their families and caregivers.

ABCD neither endorses nor accepts responsibility for the contents of third party websites or resources included in these presentation.

Sponsors have had no input into the content of the presentations.

For more information see our Website Terms and Conditions.