Webinar: Supporting people experiencing diabetes distress
Supporting people experiencing diabetes distress
Thursday 1st April 2021, 5:00pm - 6:15pm
This is the fourth of our 2021 ABCD webinar series which run on the first Thursday of each month.
People with diabetes often experience negative emotions including symptoms of depression and diabetes-related emotional distress. These can impact on diabetes care and quality of life and can lead to disengagement with the health services. This webinar, chaired by Professor Cathy Lloyd from The Open University, will discuss the importance of identifying these negative emotions and discuss ways that health care practitioners can support individuals experiencing diabetes distress.
This meeting has been approved by the Federation of the Royal Colleges of Physicians of the United Kingdom for 1 category 1 (external) credit (ref: 134925)
Emma Wilmot


Emma Wilmot is a Consultant Diabetologist at University Hospitals of Derby and Burton NHS Foundation Trust. Her specialist interests include Type 1 diabetes, insulin pump therapy and diabetes technology, young adults with diabetes and antenatal diabetes care. She was awarded the University of Leicester medal for excellent PhD performance in 2013 for her PhD "Type 2 diabetes in younger adults" and was appointed as an Honorary (consultant) Assistant Professor at the University of Nottingham in 2018. She is principal investigator on several diabetes research trials. She is founder of the ABCD Diabetes Technology Network UK. As chair she previously led the delivery of educational events for multidisciplinary diabetes teams and the development of national insulin pump 'best practice' guides, in addition to online modules for people living with diabetes. Emma is an elected Association of British Clinical Diabetologists (ABCD) committee member and DAFNE structured education executive board member. She is a member of the National Diabetes Audit Insulin Pump Expert Reference Group and has also been involved in the #languagematters movement.
Charles Fox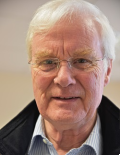 I qualified in medicine from Oxford University and St. Thomas' Hospital and trained in diabetes centres at Leicester, Poole, St Thomas', Exeter and Bristol. From 1980 - 2012 I was consultant physician with a special interest in diabetes at Northampton General Hospital. I now work as honorary lecturer for the Diabetes Masters in Leicester University. My special interests in diabetes are education, communication and patient empowerment, with particular emphasis on diabetes in people at each end of the spectrum, that is young adults and older people with diabetes. Since 1986 I have organised an annual counselling and empowerment course for health care professionals working in diabetes. I have worked with the R&D unit at Northampton General Hospital since it was founded in 1982 and have been Principal Investigator in a large number of studies, including UKPDS, DESMOND, 4T and FOURIER. I have recently become interested in the problem of diabetes and dementia and the training of professionals who work in this area.
Co-author of the following books:
• "Diabetes at your Fingertips" - a question and answer handbook for people with diabetes and their carers. The 7th edition, written with Anne Kilvert, appeared in January 2011.
• "Diabetes in the Real World" with Tony Pickering, a family doctor in Northampton, - for health care professionals. Winner of the Asher Award in 1997.
• "Vital Diabetes" with Mary MacKinnon – for primary care teams, 4th edition 2007.
• "Type 2 Diabetes in adults of all ages" with Anne Kilvert. 2nd edition 2014. Selected in 2017 for the NHS Reading Well project.
Anne Kilvert


I am a diabetes consultant working with the Northamptonshire Community Diabetes Multidisciplinary Team, having previously been a consultant at Northampton General Hospital from 1995 until 2013. I was a committee member of the Association of British Clinical Diabetologists for 9 years and, having co-authored the 2016 ABCD document 'Standards of Care for management of Adults with Type 1 Diabetes', I edited the 2020 update of this document. I remain fully committed to supporting people with type 1 diabetes to self-manage and am a faculty member of the Knuston Hall Diabetes Counselling and Empowerment course, which teaches health care professionals how to empower people with diabetes.
Cathy Lloyd


Cathy Lloyd is Professor of Health Studies at The Open University, UK. She has an international reputation for research in the psychosocial field of diabetes. Her research includes work on diabetes and mental health taking an inclusive approach to her work and promoting positive and appropriate language for clinical encounters between people with diabetes, obesity and health care professionals. She teaches health and social care to undergraduates and supervises a number of doctoral students. Professor Lloyd leads the Community Interventions Network for Diabetes and Depression (CoIN-DD), a collaborative research group for academics, researchers and clinicians in Kenya, Uganda, Ethiopia and Tanzania. She is the Project Lead for a global study in 15 countries, the International Prevalence and Treatment of Diabetes and Depression (INTERPRET-DD) Study investigating the prevalence of recognised and unrecognised depression, diabetes-related emotional distress, and the country-specific care pathways that are initiated to treat co-morbid diabetes and depression.
Mark Davies


Mark graduated from Queen's University Belfast in 1998 with a doctorate in Clinical Psychology. Prior to this he worked as a Research Psychologist at St George's Hospital Medical School, University of London. Since June 2000 he has worked at Belfast City Hospital where he provides a clinical psychology service to diabetes teams across Belfast Health & Social Care Trust. Most his working time is spent talking to people with diabetes about a wide range of psychological issues that can impair their ability or willingness to look after their diabetes. In addition he provides supervision and training to a range of healthcare professionals both locally and nationally.
---
Thank you to our Gold Supporters

We are very grateful to our corporate sponsors whose generous support has allowed us to provide this valuable educational meeting free of charge to all delegates
ABCD Sponsors have no input in the content of webinars.
---
The views expressed by speakers or other thirds parties are those of the speaker or third party and not necessarily of ABCD.

Whilst every effort has been made to ensure the information and guidance is accurate, it is impossible to predict all the circumstances in which it may be used and ABCD assumes no responsibility or liability for any errors or omissions made in this content. All presentations are for informational and educational purposes only - content should not be considered applicable to all situations or patients.

The contents do not negate the requirement for comprehensive assessment, liaison and management of patients, their families and caregivers.

ABCD neither endorses nor accepts responsibility for the contents of third party websites or resources included in these presentation.

Sponsors have had no input into the content of the presentations.

For more information see our Website Terms and Conditions.