Webinar: Hyperosmolar hyperglycaemic state (HHS) – so what's new in the latest JBDS guidelines?
Hyperosmolar hyperglycaemic state (HHS) – so what's new in the latest JBDS guidelines?
Thursday 9th June 2022, 5:00pm - 6:00pm
In the fifth of our 2022 ABCD webinar series, please join Dr Dr Masud Haq who will be discussing the new hyperosmolar hyperglycaemic state (HHS) guidelines that were published in February 2022 by the Joint British Diabetes Societies (JBDS) for Inpatient Care group.
Although HHS is less common than diabetic ketoacidosis (DKA), it is associated with a higher mortality. Recent evidence demonstrates mixed HHS and DKA is not only common but patients fare worse. The updated guidelines will improve the early recognition of these cases. With the aid of illustrated scenarios, previous areas of uncertainty are covered including the early initiation of fixed rate iv insulin infusions; the introduction of new exit criteria; bedside charts and pathways.
Q& A will follow this presentation
RCP Accreditation has been sought for this webinar. Certificates of attendance will be issued to those who attend the live webinar.
is meeting has been approved by the Federation of the Royal Colleges of Physicians of the United Kingdom for 1 category 1 (external) credit (ref: 136286)
Speakers
Dr Masud Haq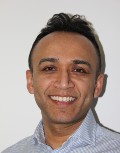 Dr Masud Haq is a Consultant Physician in Diabetes, Endocrinology and General Medicine at Tunbridge Wells Hospital. Whilst studying at Guy's and St.Thomas' medical schools, he completed training at Johns Hopkins Hospital, Baltimore, and St.Vincent's Hospital, Melbourne. After graduating, he trained at several leading UK centres including St.George's, the Royal Brompton, Atkinson Morley Hospitals and the Chelsea and Westminster Hospital Foundation Trust.
He was awarded a Doctorate in Medicine for research in Thyroid Cancer at The Royal Marsden Hospital and Institute of Cancer Research in 2007, with his work shortlisted for the European Marie-Curie award.
Masud is a published author and has written numerous peer reviewed papers and invited book chapters. He led the West Kent Integrated Community Diabetes project which was a double finalist at the HSJ Value awards last year. Masud is a member of the Joint British Diabetes Societies (JBDS) for Inpatient care group and has an interest in training and education.
Chair
Dr Parag Singhal


Parag after finishing his undergraduate and postgraduate studies in India came to U.K. to pursue higher training.
During his training he completed his widely quoted research on Hepatic Glucose production which paved way for the newer treatments in Diabetes.
He is the Executive Director of BTA along with Hon National Secretary of BAPIO.
As Divisional Director for 8 years, embraced business like approach to run the NHS, bringing entrepreneurship and innovation and demonstrated quality within limited resources
This led to him to Create Ournhsourconcern- an independent think tank which is offering a different narrative to sustain the NHS.
He is currently Hon Professor of Medicine at University of Bolton, Visiting Professor at University of South Wales and Specialist Advisor CQC, Care Quality Commision
He is also Senior Examiner Royal College of Physicians and Founder Director of BAPIO/RCPE Indo U.K. 2 plus 2 programme and appointed as Clinical Academic Advisor to the American University of Antigua.
He was rated amongst 50 doctors in the U.K. in the survey of 2021
Co Chair Health Committee, PHDCCI
Council member BMA South West, U.K.
Member Indo U.K. Govt Taskforce for Health
Member South West Clinical Senate, an apex advisory body of South West region
Clinical taxonomy:
Type 1 diabetes mellitus, Type 2 diabetes mellitus
---
Thank you to our Gold Supporters

We are very grateful to our corporate sponsors whose generous support has allowed us to provide this valuable educational meeting free of charge to all delegates
ABCD Sponsors have no input in the content of webinars.
---
The views expressed by speakers or other thirds parties are those of the speaker or third party and not necessarily of ABCD.

Whilst every effort has been made to ensure the information and guidance is accurate, it is impossible to predict all the circumstances in which it may be used and ABCD assumes no responsibility or liability for any errors or omissions made in this content. All presentations are for informational and educational purposes only - content should not be considered applicable to all situations or patients.

The contents do not negate the requirement for comprehensive assessment, liaison and management of patients, their families and caregivers.

ABCD neither endorses nor accepts responsibility for the contents of third party websites or resources included in these presentation.

Sponsors have had no input into the content of the presentations.

For more information see our Website Terms and Conditions.