Professor Stephen Bain
Co-opted Lead for ACCIA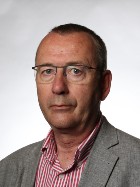 Image: Professor Stephen Bain
Steve Bain is the Clinical Director of the Diabetes Research Unit, Swansea University and Medical Director for Research & Development for Swansea Bay University Health Board.

Professor Bain completed his undergraduate training at St John's College, Cambridge, and then was clinically trained at King's College Hospital, London. On qualifying in 1983, he went on to hold junior appointments in London, the East Midlands, and the West Midlands, UK. His research centred on the genetics of type 1 diabetes, and he was granted a Medical Research Council Lectureship. He became a Fellow of the Royal College of Physicians UK in 1996 and was appointed to a newly created Chair in Medicine (Diabetes) in the University of Wales Swansea in 2005. His clinical interests include the genetics of diabetic nephropathy, new therapies for diabetes and the provision of diabetes services within the community. He has been Chief Investigator for several multi-centre trials investigating novel therapies for diabetes.

Professor Bain is the Diabetes Lead Clinician for the Swansea Bay University Health Board and chairs the Joint Clinical Research Facility in Swansea. He is currently Chair of the National Specialist Advisory Group (NSAG) for Diabetes in Wales.
Become a Member
The Association of British Clinical Diabetologists is the national organisation of Consultant Physicians in Britain who specialise in Diabetes Mellitus. Most are also Acute General Physicians, and many are also Specialists in Endocrinology and Lipid Metabolism.